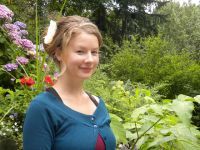 My name is Beth Fuegy. I am a Massage Therapist and Structural Integration Therapist. I recieved my bodywork education through East West College of the Healing Arts and my Structural Integration training though KMI (Kinesis Myofascial Intregation). Born and raised in Portland I attended art schools where I focused in dance. I used my dance experience and energy to teach children ballet, tap, movement, art and preschool programs through Portland Parks and Recreation. During that time I began studying to become a licensed massage therapist. After a wonderful time teaching preschool and being a childcare provider I focused on massage and bodywork.

My focus in massage has been how the body works and how to help it work better through massage. In massage I specialize in Deep Tissue Bodywork to help people release pain, stress and tension and to bettter balance the body as a whole. Whether the issue is a specific injury or general relaxation, my goal is to improve each client's well being.
I graduated KMI in December 2013 to become a Board Certified Structural Integration practitioner. The focus of this work is to initiate change for better posture, easier movement, increase in energy and resilience in the body and better knowledge of how your own body works.